Undated calendars are a versatile and essential tool that provides you with the freedom to plan and organize your life on your terms. In a world where schedules can change at a moment's notice, undated calendars offer the flexibility to adapt to your needs, and the best part is that you can use them for any month. Simply add the dates and get started.
Whether you're a busy professional, a student, or simply someone who values organization, our free undated calendar printables have a wide range of uses that can streamline your daily life.
NOTE: This post may contain affiliate links. Read the disclosure for details.
Keep reading as we explore seven creative ways you can utilize our free undated calendar printables.
1. Personalized Goal Tracking
Undated calendars are perfect for tracking your personal goals and aspirations. Whether you're aiming to exercise more, read a certain number of books, or learn a new skill, an undated calendar allows you to set your own milestones and track your progress at your own pace.
2. Customizable Meal Planning
Meal planning can be a breeze with undated calendars. Plan your weekly meals, jot down grocery lists, and create menus that suit your dietary preferences. The flexibility of undated calendars means you can adapt your meal plans as your tastes and needs evolve.
3. Project Management
Undated calendars are an excellent tool for managing projects, both big and small. Whether you're organizing a home renovation, planning a wedding, or managing a work project, you can customize the calendar to break down tasks, set deadlines, and stay on top of your to-do list.
4. Habit Tracking
Tracking habits is a great way to make positive changes in your daily routine. Use undated calendars to monitor habits such as drinking more water, practicing mindfulness, or maintaining a regular workout routine. Cross off each day as you successfully complete your chosen habit.
5. Family Coordination
Undated calendars are perfect for keeping your family's busy schedule in check. Customize the calendar with each family member's activities, appointments, and commitments. This way, everyone can stay informed and coordinate effortlessly.
6. Creative Journaling
Undated calendars provide an opportunity for creative journaling. Use the calendar as a canvas for your thoughts, ideas, and reflections. You can jot down memorable moments, quotes, and even create mini doodles to express your creativity.
7. Academic Planning
Students can benefit from undated calendars to stay organized during their academic journey. Plan study sessions, assignment due dates, and exam schedules to ensure a well-balanced and productive semester.
Final Thoughts
Undated calendars are versatile tools that adapt to your needs and lifestyle. Whether you're tracking goals, managing projects, or simply staying organized, the flexibility of undated calendars empowers you to take control of your time. The free undated calendar printables offered by the website provide a convenient way to integrate these creative uses into your daily life. So, whether you're looking for a way to track your habits, manage your family's schedule, or embark on a creative journaling journey, undated calendars are the perfect companion to help you navigate life with flexibility and organization.
To download any of the undated calendars below, simply click on the image to open the PDF file. Once it's opened, you can print it and start creating—all for free!
Each PDF template is created for standard US letter size; however, they also fit perfectly onto A4 paper sizes! Enjoy!
Free Undated Calendars (PDF Ready to Print)
You Might Also Like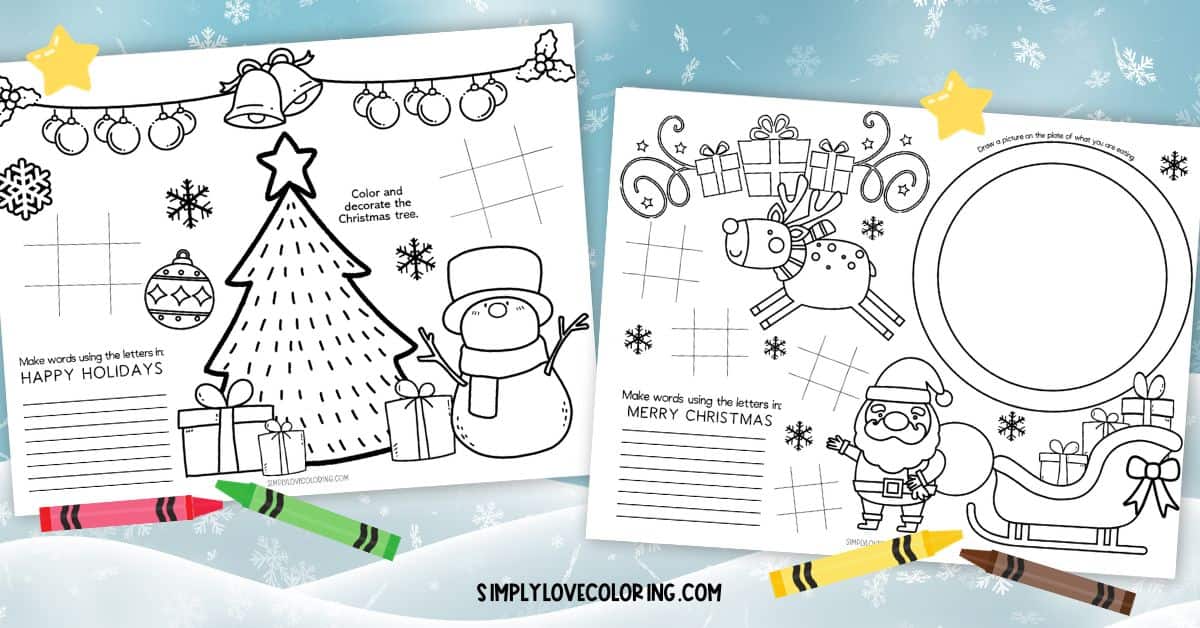 Share with friends! 1 shares 1 The holiday season is upon us, and what better way to keep the little ones entertained during mealtime than with …
Read More
Start Coloring
More Free Printables
About the Team
A group of moms, teachers, designers, and business owners established the Simply Love Coloring blog with the intention of giving away coloring pages to both adults and children who enjoy coloring, educational activities, and other printables.
We love FREE and thought you would too! All our printables are ready to download, print, and start creating!
We're on an unstoppable mission to build the world's biggest site of FREE coloring pages! Come back and see us frequently!
Printables on this site are for personal use only. They are not meant to be altered or redistributed for free or monetary gain in any way. Want to share our learning activities with a friend? Please share our website, and they can also download as many as their heart desires! Teachers and educators may use the printables in their classrooms; however, they may not be edited or altered. Read the Terms of Use here.