Do you ever feel like there are just not enough hours in the day to tackle all your tasks? With the demands of modern life, it's easy to become overwhelmed and lose track of your priorities. There is a solution that can help you regain control of your schedule and boost your productivity: our free printable weekly to-do lists!
NOTE: This post may contain affiliate links. Read the disclosure for details.
At Simply Love Coloring, we understand the importance of staying organized and managing your time effectively. That's why we've created a collection of customizable weekly to-do list templates that you can download and print for free.
These printables are designed to make your life easier, whether you're a student, a busy professional, a parent, a homeschool family, or anyone looking to streamline their daily tasks.
Why Use Weekly To-Do Lists?
Before we dive into the benefits of our free weekly to-do list printables, let's explore why using a weekly to-do list can be a game-changer for your productivity:
Prioritization: Writing down your tasks for the week helps you prioritize what needs to be done. You can identify your most important and urgent tasks, making it easier to focus on what truly matters.
Visualizing Your Week: A weekly to-do list gives you a bird's-eye view of the week ahead. You can see how your tasks are spread out and plan accordingly, ensuring you don't overcommit or underutilize your time.
Reducing Stress: Keeping all your tasks in your head can be stressful and lead to anxiety. By jotting down your tasks, you can clear your mind and reduce stress levels.
Accountability: Having a physical list of tasks holds you accountable. As you complete items, you can check them off, giving you a sense of accomplishment and motivation.
How Our Free Printables Can Help
Our free weekly to-do list printables are designed with simplicity and functionality in mind. Here's how they can benefit you:
Customizable Sections: Our printables come with sections for each day of the week, allowing you to allocate tasks to specific days. There's also space for notes, priorities, and goals.
Easy to Use: You don't need any special software or tools to use our printables. Simply download the PDF file, print it, and start filling in your tasks.
Variety of Designs: We offer a variety of stylish and visually appealing designs to suit your preferences. Whether you prefer a minimalist look or something more colorful, we've got you covered.
Join the Productivity Revolution
Don't let the chaos of life overwhelm you. Take charge of your time and stay organized with our free printable weekly to-do lists. Whether you're juggling work, school, family, or personal projects, our printables are here to simplify your life and help you achieve your goals.
Stay tuned for weekly updates and new designs to keep your to-do lists fresh and inspiring. It's time to turn your dreams into achievements, one task at a time!
How to Get Started
Using our free printable weekly to-do lists is as easy as 1-2-3:
Download: Choose the printable design that resonates with you. Click on the image.
Print: The PDF file will automatically open. Print the PDF file on your printer. You can print multiple copies for the upcoming weeks.
Plan and Execute: Fill in your tasks, priorities, and goals for the week. As you complete tasks, mark them as done, and enjoy the satisfaction of a productive week!
Each PDF template is created for standard US letter size; however, they also fit perfectly onto A4 paper sizes! Enjoy!
Free Weekly To-Do Lists (PDF Ready to Print)
You Might Also Like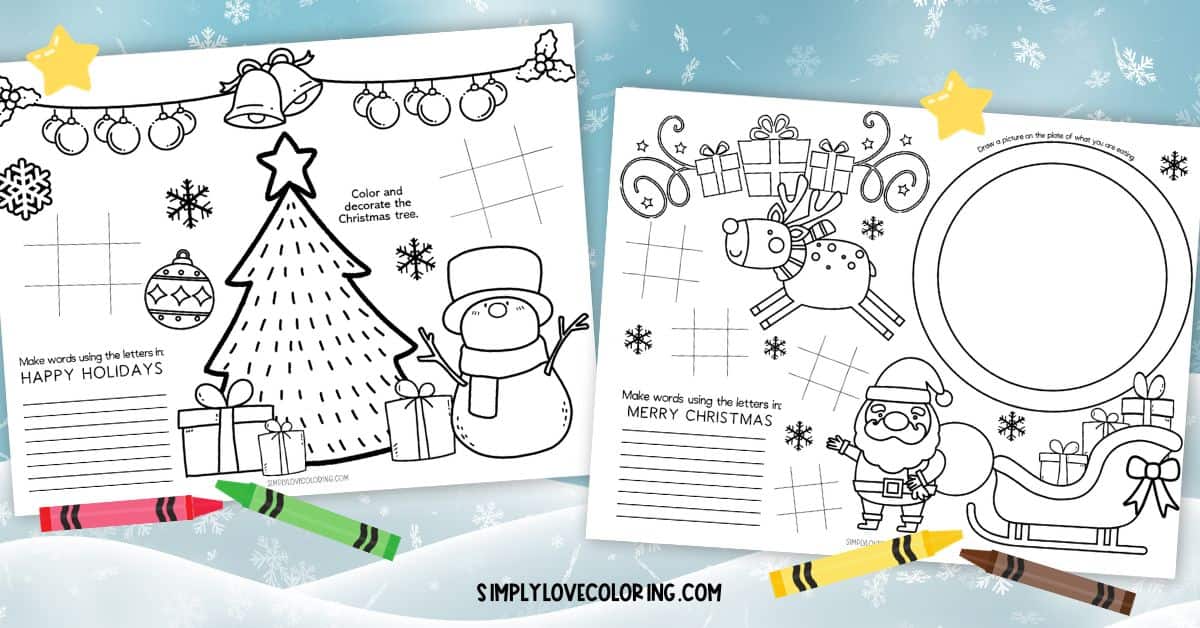 Share with friends! 0 shares The holiday season is upon us, and what better way to keep the little ones entertained during mealtime than with Christmas-themed …
Read More
Start Coloring
More Free Printables
About the Team
A group of moms, teachers, designers, and business owners established the Simply Love Coloring blog with the intention of giving away coloring pages to both adults and children who enjoy coloring, educational activities, and other printables.
We love FREE and thought you would too! All our printables are ready to download, print, and start creating!
We're on an unstoppable mission to build the world's biggest site of FREE coloring pages! Come back and see us frequently!
Printables on this site are for personal use only. They are not meant to be altered or redistributed for free or monetary gain in any way. Want to share our learning activities with a friend? Please share our website, and they can also download as many as their heart desires! Teachers and educators may use the printables in their classrooms; however, they may not be edited or altered. Read the Terms of Use here.