Given the chance to relax in a cozy chair within a tranquil room for even an hour or two, it's highly likely that most individuals would opt for the company of a captivating book, which creates the perfect opportunity to use our free bookmark printables. Whether you're a passionate reader enjoying your leisure time or a diligent student required to jump into numerous books throughout the school year, there is a need for a bookmark.
NOTE: This post may contain affiliate links. Read the disclosure for details.
Why Bookmarks Matter
Bookmark printables aren't just functional; they're a canvas for creativity and self-expression. They offer a glimpse into your reading personality and can even make your reading experience more enjoyable. Plus, they make great gifts for fellow book lovers.
You might also like: Reading Log Printables
Explore Our Free Bookmark Printables
At Simply Love Coloring, we believe that bookmarks should be as unique as the stories they accompany. That's why we offer a diverse selection of free bookmark printables that cater to various tastes and interests:
Classic Elegance: Our classic bookmarks with beautiful typography are perfect if you appreciate timeless designs and simplicity.
Whimsical Illustrations: Dive into a whimsy world with our bookmark collection featuring charming illustrations and playful themes.
Inspirational Quotes: Stay motivated and inspired during your reading journey with bookmarks adorned with fun sayings.
Customizable Templates: Want to add a personal touch? Our customizable bookmark templates allow you to insert your name, favorite quote, or a special message. Make them any way you want and showcase your reading personality!
To download any bookmark printables below, click on the image to open the PDF file. Once it's opened, you can print it and start creating—all free!
Each PDF template is created for standard US letter size; however, they also fit perfectly onto A4 paper sizes! Enjoy!
Tip: Choose the bookmarks you want, download, print, and then laminate for extra-long use and durability! This is our favorite (and inexpensive) at-home laminator, or you can take them to your local print shop, Office Max, etc., to laminate for you.
Free Bookmark Printables (PDF Ready to Print)
Coloring Bookmark Printables and Black and White Bookmarks
Bookmark Printables Templates
You Might Also Like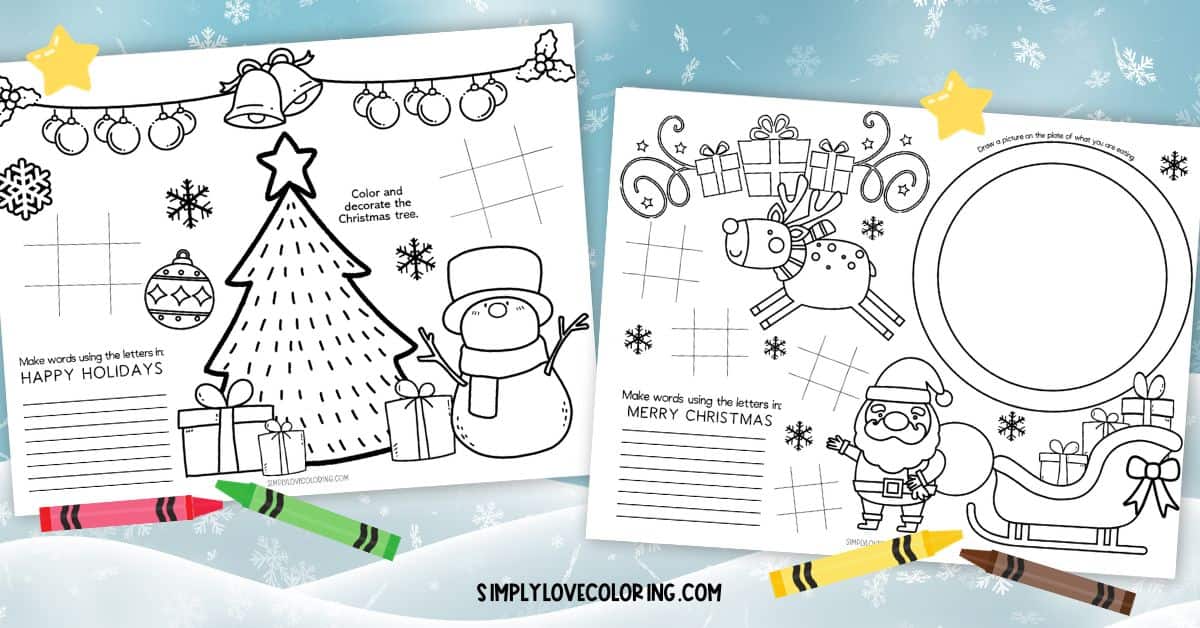 Share with friends! 28 shares 28 The holiday season is upon us, and what better way to keep the little ones entertained during mealtime than with …
Read More
Start Coloring
More Free Printables
About the Team
A group of moms, teachers, designers, and business owners established the Simply Love Coloring blog with the intention of giving away coloring pages to both adults and children who enjoy coloring, educational activities, and other printables.
We love FREE and thought you would too! All our printables are ready to download, print, and start creating!
We're on an unstoppable mission to build the world's biggest site of FREE coloring pages! Come back and see us frequently!
Printables on this site are for personal use only. They are not meant to be altered or redistributed for free or monetary gain in any way. Want to share our learning activities with a friend? Please share our website, and they can also download as many as their heart desires! Teachers and educators may use the printables in their classrooms; however, they may not be edited or altered. Read the Terms of Use here.